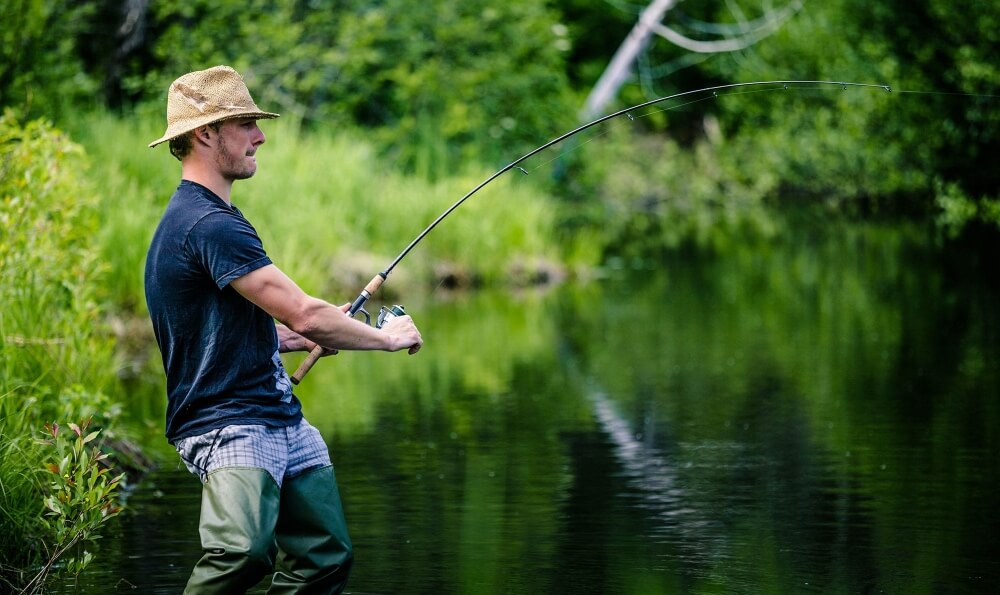 Daily fishing permits can be ordered from us!
Prices of daily fishing permits:
150 kn – Slunjčica
60 kn – Korana, Mrežnica i Glina
---
Fishing
Stay in nature relaxing, catching and acclimatization of the fishing technique, motion of the hands and the pole to the fish behavior taking into account the water currents, result with deception and drawing the fish out of the water and that is the whole meaning of sports fishing, to outsmart a wild animal and deceive it as well as drawing it out of the water and usually after taking pictures, sometimes giving it a farewell kiss returning it to water.
Our destination represents an excellent choice for relaxing fishing on our beauties that are wealthy with fish. Beautiful shores of our rivers await You in charming company and liberate You from everyday stress. Spend the day, weekend or the whole week in our fishing arrangements which we will adapt all to Your wishes.
Through our proficiency of fishing waters and in cooperation with the local fishing associations and all other contents that every angler needs, we guarantee an unforgettable experience.
---
OUR RIVERS
River Slunjčica springs 5 km south of Slunj 240 m above sea level. It is a typical karst river, and presents the ending of the underground flow of river Lička Jesenica. From numerous travertine barriers the most beautiful ones are at the Slunjčica estuary in river Korana. It is rich with rainbow trout and grayling.
River Korana springs from the lowest lake of National park Plitvice lakes, Kaluđerovac, and to the mouth in river Kupa at Karlovac it is 134 km long. It's a karst river rich with travertine barriers, waterfalls and rapids. It provides sanctuary to many fish species such as; rainbow trout, grayling, pike, catfish, chub, barbell, sneep as well as to other white fish.
River Mrežnica springs 10 km west from Slunj at 280 m above sea level. The length of the river is 62 km, and it presents co position of river Dretulja that plunges not far from Plaški.
It mouths in Korana at Karlovac. It flows through a narrow and partially deep canyon with an abundance of travertine barriers and waterfalls. It is a sanctuary to many species of fish.
---
FISHING REGULATIONS
Every angler is acquainted with fresh-water fishing regulations:
every angler has to have a fishing license
it is not allowed to catch fish with a foreign species of fish, live or dead as a bait
to catch fish by forbidden ways; by explosives, by hand, by fish spear, by underwater gun, by net or other prohibited means
with several fishing gears or equipment that is not listed
in the waters inhabited with Salmonidae species of fish, natural baits are forbidden
fish caught in recreational-sports fishing must not be put in market
Recreational-sports fishing of Cyprinidae species of fish is allowed with 3 fishing gears with one hook at most. The lure can have two hooks at most, one-hook, two-hook or three-hook.
Recreational-sports fishing of Salmonidae species of fish can be performed with one fishing gear with one fishing reel. Fishing gear can have one hook at most – fly or lure.
Artificial bait – fly can have only one hook.
Allowed daily catch of fish
noble fish – 2 fish
white fish – 3 kg
Fishing preventive regulations

FISH SPECIES                           SMALLEST MEASURE         CLOSE SEASON
RAINBOW TROUT                             30 cm                             01.10. – 28/29.02.
CALIFORNIAN TROUT                      30 cm
GRAYLING                                         30 cm                              01.01. – 15.05.
PIKE                                                   40 cm                              01.02. – 31.03.

Extract from the economic annex that need to be venerated
River Slunjčica  – on locality RASTOKE (monumental heritage of 1. category) which spreads from the new bridge to the mouth in river Korana, in respect to preserve the fish fund we suggest regime catch and release, strictly by artificial fly
forbidden use of underwater float
allowed fishing in March, April, May and September from 06:00 till 21:00
allowed fishing in June, July and August from 05:00 till 22:00
allowed daily catch of fish – 2 fish
River Korana – driving in motor boats is forbidden
River Mrežnica –in respect to preserve fish fund we suggest regime catch and release
protraction of the hook from the boat is forbidden
Obligatory register enlistment of stay on the water and catch in the record file.
For the caught fish that is carried home it's obligatory to cut the lower tail fin.
After the allowed fish catch the angler is obligatory to stop the fishing or otherwise it is considered that he is in poaching.
Members till 14 years of age must be accompanied by an adult person!
Take care of the environment!